Since the year 2000, this online surf shop has been the easiest way to buy wetsuits & apparel , with information and practical advice. Wetsuit size charts and how to use them. Explanations of materials and features. Wetsuits and surf boards for a surfing beach Holiday
Wetsuits and water sports equipment for surfing windsurfing kite boarding water-skiing jet-skiing sailing canoeing , snorkeling . Wetsuits for messing about in your boat or just having a swim ! Wetsuits for Kid's, Wetsuits for Women , Wetsuits for Babies , Wetsuits for Men .
We use the wetsuits we sell and give feedback to the factory so improving the products you buy. If you only buy 100% Neoprene products with 12 months warranty, you won't go wrong.
All our wetsuit products are 100% neoprene. This gives you the best warmth, comfort, longevity and value for money possible.
ALL NEW Triathlon Suit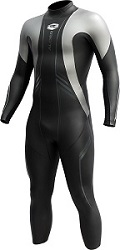 Matrix 4/3mm Tri Wetsuit
A smoothskin, long zipped, easy entry, competitively priced Triathlon suit
Price £160