SUMMER SUITS AND SHORTY SUITS
Many people think a Shortie with short arms and legs is a summer suit and a suit with long arms and legs isn't ! However it all depends on water temperature. In the UK, as a guide, a Shorty suit is for short periods in the water on warmer summer days. they are ideally suited to taking off and putting back on several times a day, perfect for younger children. Shorties are nearly always 3/2mm and if any thinner virtually useless in the UK.
Summer suits in the UK are 3/2mm usually long legged and sleeves but sometimes have short or detachable sleeves. If you go for the short sleeve option then you will be colder on cooler less sunny days even with the detachable sleeves on whist in the water. Summer suits have either Flatlocked or sealed seams. Sealed seam suits are usually glued & blind stitched ( sometimes called cup stitching). The more expensive better quality suits can also be liquid taped for added strength and longevity. Flatlocked seams are very strong but will let water through.
WINTER WETSUITS & STEAMERS
A Steamer is a suit with sealed seams, usually achieved by cup or blind stitching. This stops the majority of cold water from entering the suit once your body has initially heated it up. Winter wetsuits are steamers with a 5mm body and legs for warmth and 3mm arms for maneuverability. These are usually described as 5mm or 5/3mm or 5/4/3mm.
Winter suits should really be described as Three or Four Season Suits, as they are essential in the UK and northern Europe from September to May. Some people use their 5mm suit all year, only using something thinner in "heat wave" years

WETSUIT CARE
Your wetsuit should last for many years if some simple guidelines are followed -
Rinse well in fresh water after every use
Do not leave for lengthy periods in direct sunlight
Turn the right way out a.s.a.p when dry
Store flat and un-creased or on wide shouldered
plastic coat hanger.
Don't leave tightly packed, especially if sandy and wet
Don't put in the washing machine or tumble dryer
Don't iron.
Don't wash with detergent or bleach.
Use a mild solution of Miltons or a specific wetsuit shampoo or hair conditioner to remove excessive smells. But only occasionally.
Super stretch suits are best kept flat and folded behind the knees and then in half. Only use a hanger for short periods of time and use as wide a hanger as possible.

Mesh or Single lined
Mesh or single lined or smoothskin is the term for neoprene without the usual external nylon lining. Mesh has a fine "mesh" pattern embossed into it for strength, smoothskin is as it sounds. It is warmer in strong winds.
Mesh is often only used in carefully chosen areas of the suit as it is easy to damage with sharp objects.

Super Stretch
Also known as "X" Stretch Neoprene. Developed for excellent stretch and memory. Hard wearing stretch nylon on the outside with softer super stretch nylon on the inside provides excellent comfort and fit.
Liquid Taping & Taped Seams
Also known as S or Super Seal. A type of rubber applied to the inside or outside seams in liquid form to achieve a 100% watertight seal and add to the overall strength of the seam. Liquid Taping can 'snap' as the suit is stretched whilst dressing so narrow neoprene tape is being used by some manufactures instead If you're paying £150 or more for a suit that doesn't have any taped seams, you're being ripped off!
Firewall or Thermal lining
Firewall is a light, warm and very comfortable thermal lining, knitted with Tetron Polyester Hollow yarn which contains large volumes of inert air. This air is key to it's high insulating property. Firewall has a low water absorption, wicks moisture away from the body and is quick drying plus it has excellent 4-way stretch. Bamboo is the latest eco friendly thermal lining material.

Double Lined
A double lined suit is quite simply a suit that has a lining on the inside and a similar covering on the outside of the suit.
Spanflex
Spanflex adjustable collar is super stretch neoprene lined with Lycra to give a snug and comfortable rash-free fit
Flatlock
Flatlock stitching is a strongly stitched seam that leaves a flat seam on the inside of the suit as well as the outside.
Blind Stitching
Blind or cup stitching is stitching that does not go through the suit to the other side and so does not let water through. This is what makes a steamer warmer than a summer suit as well as the thicker neoprene. It also makes it more expensive as the seams are glued by hand before the stitching. If the suit is then liquid taped you get extra strength and water tightness on the seams, well worth the extra cash.
Batwing zip flap
This stops any water from entering the suit through the zip and means the water has to come up and over the collar to enter the suit. So it keeps you much warmer in the winter months.
MEN'S SUMMER SUITS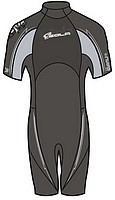 Sola Nytro 3mm Shorty
A high quality shorty wetsuit at a great price. Colours Black
Price £30
~~~~~~~~~~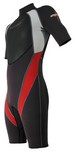 Alder Impact 3mm Shorty
A high quality shorty wetsuit with stretchy sleeves at a great price.
Price ONLY £50
View Size Chart Product Ref IMP02
~~~~~~~~~~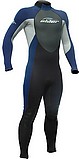 Alder Impact 3mm Full
A full length summer suit with stretch sleeve and shoulders. A well built comfortable suit at a great price. Colours Black with Blue or Red
Price £65
View Size Chart Product Ref IMP01
~~~~~~~~~~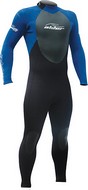 Alder Stealth 3/2mm
A full length 3/2mm summer suit with super stretch sleeve and shoulders and 100% sealed seams. A very comfortable and warm summer suit.
Price £90 View Size Chart Product Ref STH01
~~~~~~~~~~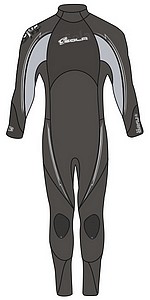 Sola Nytro 3mm
A full length 3mm summer suit with. A very comfortable and warm summer suit.
Price £40
View Size Chart
Product Ref COR32

~~~~~~~~~~~~~~~~~~
ALL NEW Triathlon Suit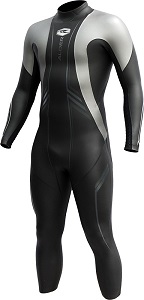 Matrix 4/3mm Tri Wetsuit
A smooth skin, long zipped, easy entry, competitively priced Triathlon suit
Price £160
View Size Chart Product Ref TRI
MEN'S 5mm & 6mm SUITS

Sola Core X
5/4/3mm double lined, blind stitched. hard wearing. Super Stretch liquid taped seams, Thermal lining Excellent value.
Our Price £80 RRP £170
View Size Chart
~~~~~~~~~~

Alder Stealth
5/4/3mm double lined. 100% sealed seam . Super stretch neoprene on arms & shoulders. Unbeatable value for money All Sizes
Price £110
View Size Chart Product Ref. MSTHS5/3
~~~~~~~~~~~

Alder Drifter 5/4/3mm
100% Super stretch neoprene. Batwing zip flap and integral collar i.e. no water through the zip! Firewall thermal system on chest and back.
Price £160
View Size Chart Product Ref. MDFT5?3
~~~~~~~~~~~~~~~~~~~

Alder Evo Fire Steamer

5/4/3mm front zip steamer. Super stretch everywhere 100% liquid taped seams. Thermal lining.
Price £240
View Size Chart Product Ref. EVO5/3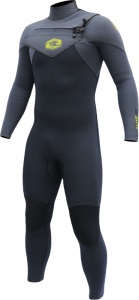 Alder Luxe Steamer

5/4/3mm chest zip steamer. Super stretch everywhere 100% neoprene taped seams. 100% Quick dry thermal lining. water repellent outer surface Almost SOLD OUT
Price £250
View Size Chart Product Ref. LXE5/3
~~~~~~~~~~~~~~~~~~~

6mm Alder Hooded Evo Fire
6/5/4mm front zip steamer. 6mm torso panel, 5mm body, 4mm legs. Super stretch everywhere, 95% liquid taped seams 75% Quick dry thermal panels.
Price £250
View Size Chart Product Ref. EVO64

Check out individually priced clearance suits on Sale in the Bargains
~~~~~~~~~~~~~~~~~~
All the Men's Suits come with a 12 month warranty against the seams splitting and the zips breaking