Wetsuits for Kids -
Warmth in the water.
Warmth from wind chill when wet and out of the water.
A slight positive buoyancy gives confidence and reduces the chance of exhaustion while swimming.
Protection from sunburn and jellyfish stings.
Bright colours make your child easier to see in the water.
HOW A CHILD'S WETSUIT WORKS
A snug fitting wetsuit keeps a thin layer of water between your skin and the suit. Your natural body heat, insulated by the material (neoprene) of the suit, warms this thin layer of water. The closer the fit of the suit to your own body shape the warmer the suit will be.
WINTER WETSUITS & STEAMERS
A Steamer is a suit with sealed seams, usually achieved by cup or blind stitching. This stops the majority of cold water from re-entering the suit once your body has initially heated it up. Winter wetsuits are steamers with a 5mm body and legs for warmth and 3mm arms for manoeuvrability. These are usually described as 5mm or 5/3mm or 5/4/3mm.
Winter suits should really be described as Three or Four Season Suits, as they are essential in the UK and northern Europe from September to May.
WHAT IS TITANIUM
Titanium is a metal similar to Aluminium and Magnesium. It works by reflecting body heat in the same way as tin foil and survival blankets. A nice fitting, well made suit is more important than having it made out of titanium. Most of the major manufacturers including Alder are stopping the use of Titanium.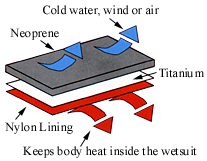 WETSUIT CARE
Your wetsuit should last for many years if some simple guidelines are followed -
Rinse well in fresh water after every use
Do not leave for lengthy periods in direct sunlight
Turn the right way out
when dry
Store flat and un-creased or on wide shouldered
plastic coat hanger.
Don't leave tightly packed, especially if sandy and wet
Don't put in the washing machine or tumble dryer
Don't iron.
Don't wash with detergent or bleach.
Use a mild solution of Miltons or a specific wetsuit shampoo
or hair conditioner to remove excessive smells. But only occasionally.
Super stretch suits are best kept flat and folded behind the knees and then in half. Only use a hanger for short periods of time and use as wide a hanger as possible.

Mesh or Single lined
Mesh is the term for neoprene without the usual external nylon coating. It is very flexible and thus more comfortable than double lined neoprene and also warmer in strong winds.
Mesh should only be used in carefully chosen areas of the suit as it is more prone to damage from sharp objects.
Super Stretch
Also known as "X" Stretch Neoprene. Developed for excellent stretch and memory. Hard wearing stretch nylon on the outside with softer super stretch nylon on the inside provides excellent comfort and fit.
Double Lined
A double lined suit is quite simply a suit that has a lining on the inside and a similar covering on the outside of the suit.
Flatlock
Flatlock stitching is a strongly stitched seam that leaves a flat seam on the inside of the suit as well as the outside.
Blind Stitching
Blind or cup stitching is stitching that does not go through the suit to the other side and so does not let water through. This is what makes a steamer warmer than a summer suit as well as the thicker neoprene. It also makes it more expensive as the seams are glued by hand before the stitching. If the suit is then liquid taped you get extra strength and water tightness on the seams, well worth the extra cash
KID'S FULL SUITS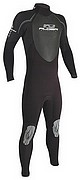 Alder Stealth 5mm Full
5mm torso. Twin needle blind stitched. 3mm body Super stretch sleeve and shoulder. Heat taped on stress points. Tough knee pads. Key holder. Metal YKK zip .
Price £99
View Size Chart Product Ref.KSTH53
~~~~~~~~~~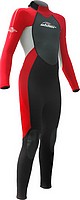 Alder Impact 3mm Summer
This best selling suit offers excellent value with many features kneepads, fully adjustable Velcro neck closure to eliminate cold water . Single lined titanium torso panel, flatlock construction, key pocket. Colours: Black with Blue or Red
Product Ref IMPK01
ONLY £50
View Size Chart
~~~~~~~~~~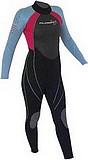 Girls Alder Impact 3mm Summer

This double lined suit offers excellent value with many features such as full kneepads, fully adjustable Velcro neck closure. Single lined titanium torso panel, flatlock construction, key pocket .Colours: Black with Blue or Pink
Product Ref GMPK01
ONLY £50
View Size Chart

~~~~~~~~~~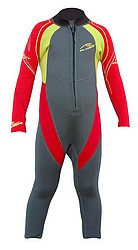 Baby Full Wetsuit
A suit designed specifically for Baby's with ease of entry/exit a priority. with a front zip and low cut neck for comfort. They are wider than usual to fit the ' baby shape ' and to allow for possible use of a nappy .Colours: Blue or Red
ONLY £35
FREE UK POSTAGE
View Size Chart Ref. BBY01
All the Kid's Suits come with a 12 month warranty against the seams splitting and the zips breaking.
KID'S SHORTY SUITS FREE UK POSTAGE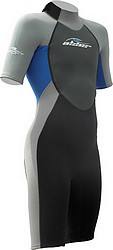 Alder Impact 3mm Shorty

This double lined suit offers excellent value with many features such as fully adjustable Velcro neck closure to eliminate cold water flushing. Single lined torso panel, flatlock construction, key pocket. Colours: Black with Blue or Red
ONLY £35
View Size Chart Ref. IMPKS02

~~~~~~~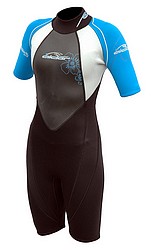 Girls Impact 3mm Shorty
This double lined suit, excellent value with many features such as fully adjustable Velcro neck closure to eliminate cold water.
Colours: Black with Blue or Pink
ONLY £35
View Size Chart Ref. GMPKS02
~~~~~~~~~~~~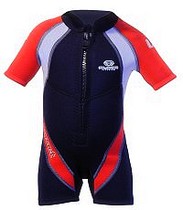 Baby Shorty Wetsuit
A suit designed specifically for Baby's with ease of entry/exit a priority. with a front zip and low cut neck for comfort. They are wider than usual to fit the ' baby shape ' and to allow for possible use of a nappy .Colours: Pink or Blue or Red
ONLY £20
View Size Chart Ref. BBY02
~~~~~~~~~~~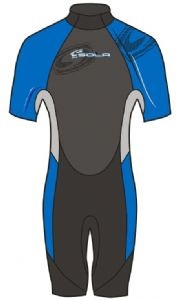 Sola Shorty Wetsuit
A Great suit on clearance RRP. £30 Sizes M, L. XL, 2XL
ONLY £15

View Size Chart